---
Introduction
---
According to the American Society of Plastic Surgeon's 2017 statistics, there were 17.5 Million surgical and minimally invasive procedures performed in the U.S. in 2017, of which 129,753 were tummy tuck procedures.
Tummy tucks used to be classified as the "mommy makeover", especially when combined with a breast lift, because of the great benefits women have experienced from having a tummy tuck after pregnancy. Today, the tummy tuck procedure has also become popular with men who want to tighten, tone, and have a more sculpted midsection.
A tummy tuck with liposuction can reduce love handles. And, many men and women are opting for a particular kind of body contouring called abdominal etching which creates the appearance of a six-pack or V-lines.
What is a Tummy Tuck?
Tummy tuck surgery—also known as abdominoplasty in most cases, reconditions weakened or separated muscles to create a smoother and firmer abdominal profile.
A tight, toned, abdomen—and for some, a sculpted six-pack is what many people strive for in their healthy-lifestyle. Some can achieve this goal with exercise and a healthy eating plan. But for many, no amount of diet and exercise will get them to their ideal abdomen.
Having the ideal Body Mass Index—BMI, proportion, body weight for your age, gender, and height is no guarantee of a tight, flat midsection. An abdomen that sags and protrudes is still a possibility in many otherwise fit individuals due to:
Extreme weight loss.
Pregnancy.
Previous surgery.
Heredity.
Years of inactivity.
After having a tummy tuck many people report being able to fit into clothes they previously could not wear, or that they felt too uncomfortable to wear. This change in their body shape gave them a sense of well-being and self-confidence.
If you are a good candidate, all of these body shape challenges could potentially be corrected with a tummy tuck and related procedures—like liposuction and skin etching to give you the body you used to have, or one that you have only dreamed about having.
During your free, one-on-one consultation, your doctor will help you determine if a Tummy Tuck is the right option for you and if you are an ideal candidate for a Tummy Tuck.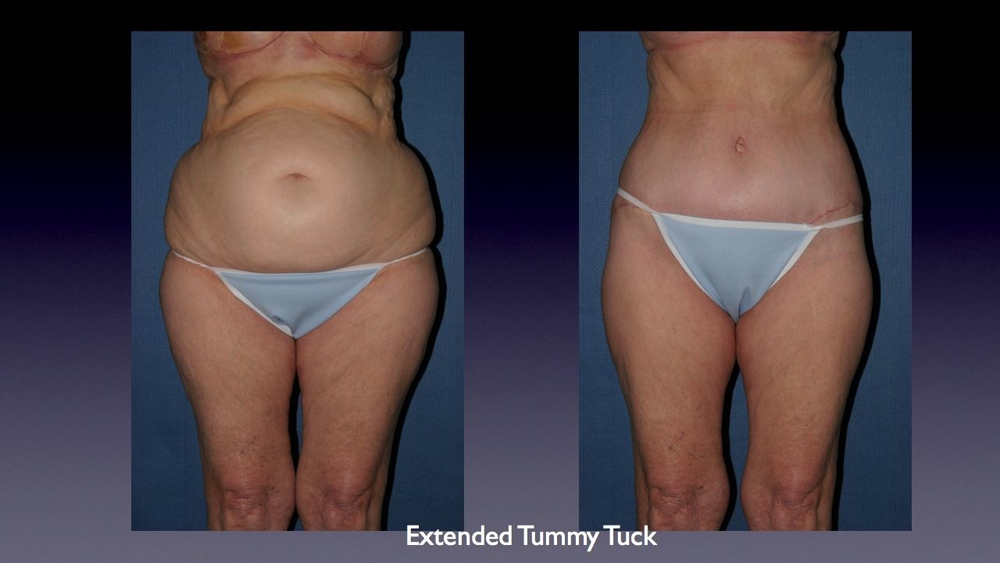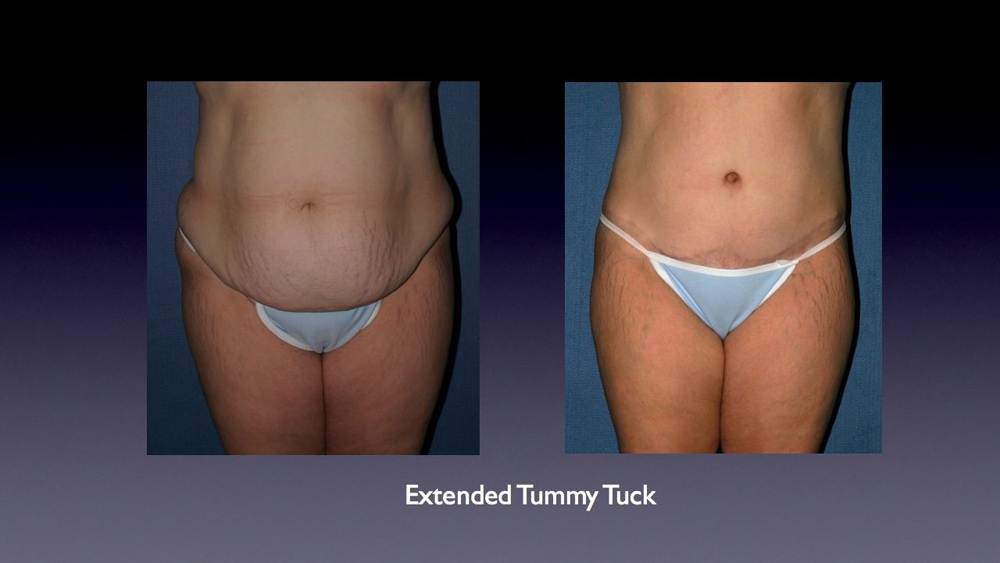 ---
What is the cost of a tummy tuck?
---
In the U.S., the average cost of tummy tuck surgery is $5,992, according to the American Society of Plastic Surgeon's 2017 statistics.  The price can increase or decrease depending on the amount of fat and tissue you want removed.
Some patients goals require combining other procedures with the tummy tuck, such as liposuction, breast augmentation or a breast lift.  Extended tummy tucks, which include liposuction, fall into the high-end of the cost range with a price tag of $11,000-$12,000.
A surgeon's fee will be based on their experience, the type of procedure or procedures used, and the geographic office location.
Most health insurance does not cover tummy tuck surgery or any complications. However, we can help you find financing options when you call, if that's something you desire.  Knowing the amount of financing you have available going into your free consultation will allow you to better explore the options available.
Tummy tuck procedure costs may include:
Anesthesia fees
Hospital or surgical facility costs
Medical tests
Post-surgery garments
Prescriptions for medication
Surgeon's fee
---
Consultation
---
As with any procedure, doing your homework is highly recommended. The next step in researching surgical procedures to create your ideal abs with a Tummy Tuck is to sit down with one of our Tummy Tuck Elite Physicians for a free consultation.
You can ask questions, receive a customized presentation, and find out the best options and treatment plan for you.
For your convenience, you can download a more comprehensive checklist of questions that you may consider discussing with your physician. And, questions your surgeon will ask you during your free tummy tuck consultation:
Discuss your surgical goals.
Bring information about any medical conditions, drug allergies, and other surgical procedures you have had in the past.
Prepare a list of all current medications, vitamins, herbal supplements, alcohol, tobacco, and any non-prescription or recreational drug use.
Previous surgeries.
Your tummy tuck surgeon will talk with you about the following:
Your general health status and any pre-existing health conditions or risk factors.
Discuss your treatment and sedation options.
Recommend a course of treatment.
Discuss likely tummy tuck procedure outcomes and any risks or potential complication.
Take photographs of the surgical area.
The success and safety of your tummy tuck procedure depend very much on your complete candor during your consultation. You will be asked questions about your health, body shape goals, and lifestyle.
It is perfectly natural to feel some anxiety with excitement for your anticipated new look or to be nervousness about the procedure. Your Tummy Tuck surgeon is here to answer any question or concern that you may have. Your comfort and satisfaction are our focus.

---
Questions to Ask
---
Below is a list of questions that others considering a Tummy Tuck procedure have asked. This list is not comprehensive and does not take into account your unique body shaping goals. During your free Tummy Tuck consultation, you can ask additional questions and view a presentation on your unique treatment plan.
Tummy Tuck Consultation Checklist
We recommend that you use this checklist as a guide during your tummy tuck consultation.
Discuss your surgical goals.
Bring information about any medical conditions, drug allergies, and other surgical     procedures you have had in the past.
Prepare a list of all current medications, vitamins, herbal supplements, alcohol,     tobacco, and any non-prescription or recreational drug use.
Previous surgeries.
Ask your surgeon:
Are you certified by the American Board of Plastic Surgery?
Were you specifically trained in the field of plastic surgery?
How many years of plastic surgery training have you had?
Do you have hospital privileges to perform this procedure? If so, at which hospitals?
Click here to download the complete Tummy Tuck Consultation Checklist.

---
What are Tummy Tuck Surgery Risks?
---
Your Tummy Tuck Elite Physician will discuss tummy tuck surgery risks and potential complications based on your goals, lifestyle, and other factors.
A non-comprehensive list of tummy tuck surgery risks includes:
Anesthesia risks
Bleeding
Infection
Seroma—Fluid accumulation
Asymmetry
Poor wound healing
Numbness or other changes in skin sensation
Skin discoloration and/or prolonged swelling
Skin loss
Unfavorable scarring
Fat Necrosis—fatty tissue found deep in the skin might die
Deep vein thrombosis, cardiac and pulmonary complications
Less than an optimal aesthetic result
Persistent pain
The recurrent looseness of skin
The potential for revisional surgery
---
How should I prepare for Tummy Tuck Surgery?
---
Important Note: If your tummy tuck procedure is performed on an outpatient basis, be sure to arrange for someone to drive you to and from the facility and to stay with you for at least the first night following surgery.
Depending on your individual body-goals, medical history, and lifestyle, your physician may request that you:
Stop smoking.
Laboratory tests which may include blood and urine samples.
An additional medical evaluation.
Take an additional medication or adjust your current prescription and over the counter medications as they can increase bleeding:

Avoid taking aspirin.
Stop anti-inflammatory drugs.
Refrain from herbal supplements.
Your Tummy Tuck Elite Physician will advise you on how to best prepare for your tummy tuck procedure.
A tummy tuck procedure may be performed in:
An accredited, office-based surgical facility.
Licensed ambulatory surgical center.
Hospital.
---
How a Tummy Tuck Procedure is Performed
---
Step 1 – Anesthesia
During your tummy tuck procedure, the medication or anesthesia options are intravenous sedation and general anesthesia—for your comfort. Your doctor will recommend the best option for you.
Step 2 – The Tummy Tuck Incision
The surgeon will make a horizontal incision in the area between your pubic hairline and belly button—during a full tummy tuck procedure. The incision length and shape will be determined by a number of factors:
Your unique body-goals.
The amount of excess skin.
If there is excess skin in the upper abdomen a second incision will be made around the navel. The excess skin in the abdominal area is pulled down and trimmed.
Next, any weakened abdominal muscles are repaired.
Step 3 – Closing the Tummy Tuck Incision
Your surgeon will skillfully create a new belly button opening, the belly button will be pushed to the surface, sutured into position, and the one or two incision areas will be closed using sutures, tapes or clips, and skin adhesives.
---
What to expect during tummy tuck recovery?
---
After your tummy tuck procedure, dressings or bandages may be applied to your incisions. And, you may be wrapped in an elastic bandage or a compression garment to minimize swelling and to support your abdomen as it heals following surgery. In some cases, small, thin tubes may be temporarily placed under the skin to drain any excess blood or fluid that may collect.
Your Tummy Tuck Elite Physician will give you specific, written instructions that may include:
Surgical site and drains home-care.
Medications to take orally or to apply to the skin to aid healing and reduce the potential for infection.
A list of specific concerns to look for at the surgical site or in your general health.
Follow up appointment information.
What results should I expect after a tummy tuck?
Some swelling after a tummy tuck procedure is expected. Your Tummy Tuck Elite Physician will discuss the potential for swelling and what to expect after surgery.
Your inability to stand fully until your internal healing process is complete and any swelling that you may experience after tummy tuck surgery may prevent you from seeing clear results for 1 – 2-weeks after surgery.
After a week or more, you should notice a flatter, tighter, sleeker midsection.
Not sure which procedure is right for you?
Schedule for a free consultation to discuss options with a physician.